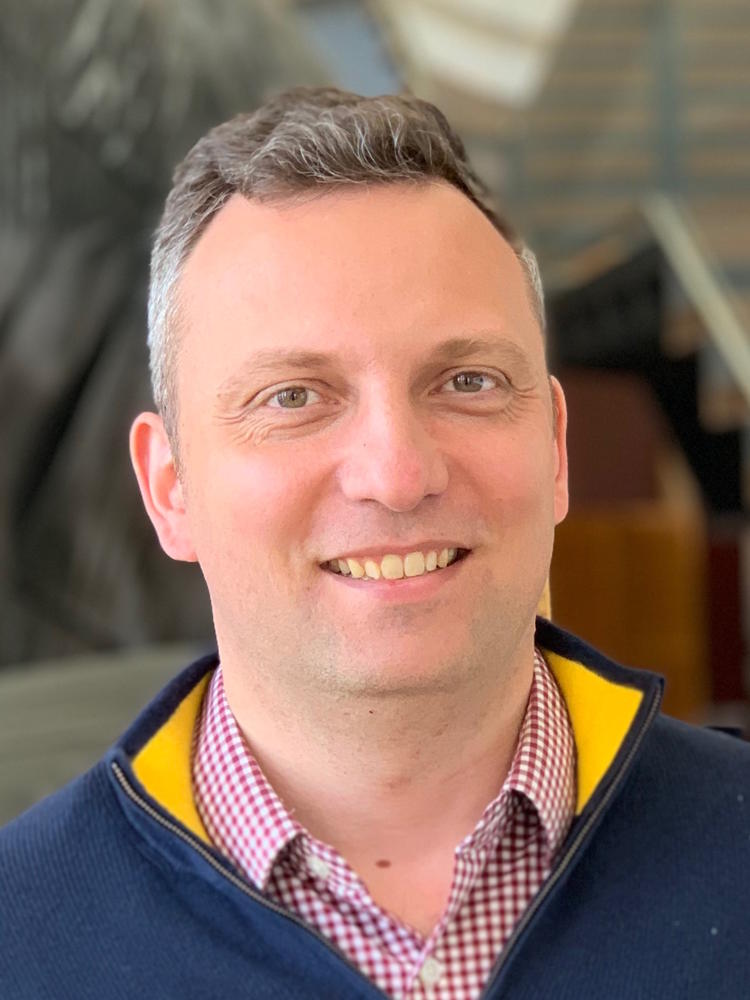 Office
110 Thomas Laboratory
Alexander Ploss
Role
Full Member, Cancer Institute of New Jersey
About
Bio/Description
Alexander Ploss completed his Ph.D. in Immunology at Memorial Sloan-Kettering Cancer Center and Cornell University and postdoctoral training at The Rockefeller University in New York City. He was member of faculty at The Rockefeller University before joining Princeton University in 2013. Dr. Ploss is a Professor of Molecular Biology, member of the executive committee of the Center Health and Wellbeing, a fellow in the Program in Global Health and Health Policy at Princeton University and a faculty advisor at Forbes College. Professor Ploss is also a member of the Genomic Instability and Tumor Progression Program at the Cancer Institute of NJ.
Dr. Ploss' lab is interested in human-tropic viral pathogens, including but not limited to hepatitis viruses, classical flaviviruses such as Zika, yellow fever and dengue viruses – and since the beginning of the pandemic SARS-CoV-2.  Research in the Ploss lab covers three main areas of investigation: Deciphering mechanisms of viral infection/replication, systematically identifying barriers preventing transmission of human viral pathogens to non-primate species and translating their discoveries into devising experimental systems that are suitable for dissecting host responses to these diseases.
In support and recognition of his work Dr. Ploss received numerous awards including the including the Astella's Young Investigator Award from the Infectious Disease Society of America, the Liver Scholar Award from the American Liver Foundation, the Löffler-Frosch Prize from the German Society of Virology, Merck Irving Sigal Memorial Award from the American Society for Microbiology, and the Burroughs Wellcome Fund Investigator in the Pathogenesis of Infectious Disease Award.
Curriculum Vitae
Education
B.S., University of Tübingen, Germany
M.S., University of Tübingen, Germany
Ph.D., Cornell University/Memorial Sloan Kettering Cancer Center, New York, NY
Selected Publications
Wei, L., Ploss, A. (2021) Hepatitis B virus cccDNA is formed through distinct repair processes of each strand, Nature Communications, 12(1):1591. doi: 10.1038/s41467-021-21850-9.
Wei, L., Ploss, A. (2020) Core components of DNA lagging strand synthesis machinery are essential for the reconstitution of hepatitis B virus cccDNA formation, Nature Microbiology, 5(5):715-726 PMCID: PMC7190442
Douam, F., Ziegler, C.G.K, Hrebikova, G., Fant, B., Leach, R., Parson, L., Wang, W., Gaska, J.M., Winer, B.Y., Heller, B., Shalek, A.K., Ploss, A. (2018) Selective expansion of myeloid and NK cells in humanized mice yields human-like host responses to vaccination, Nature Communications, 28;9(1):5031, PMCID:PMC6262001
Winer, B.Y., Shirvani-Dastgerdi, E., Bram, Y., Sellau, J., Low, B.E., Johnson, H., Huang, T., Hrebikova, G., Heller, B., Sharon, Y., Giersch, J., Gerges, S., Seneca, K., Pais, M.A., Frankel, A.S., Lipkowitz, G., Chiriboga, L., Cullen, J., Nahass, R.G., Lutgehetmann, M., Toettcher, J.E., Wiles, M.V., Schwartz, R.E., Ploss, A. (2018) Preclinical assessment of antiviral combination therapy in a genetically humanized mouse model for persistent hepatitis delta virus infection, Science Translational Medicine, 10(447). pii: eaap9328. doi: 10.1126/scitranslmed.aap9328. PMCID:PMC6337727
Winer, B.Y., Huang, T.S., Pludwinski, E., Wojcik, F. Lipkowitz, G., Parekh, A., Cho, C., Shrirao, A., Muir, T., Novik, E., Ploss, A. (2017) Long-term persistent hepatitis B virus infection in a scalable micro-well primary hepatocyte coculture system, Nature Communications, 8(1):125, PMCID:PMC5527081
Douam, F., Hrebikova, G., Soto Albrecht, Y.E., Sellau, J., Sharon, Y., Ding, Q., Ploss, A. (2017) Single-cell tracking of flavivirus RNA uncovers species-specific interactions with the immune system dictating disease outcome. Nature Communications, 8:14781. doi: 10.1038/ncomms14781. PMCID:PMC5424064
Ding, Q, Heller, B., Capucino, J.M.V., Song, B., Nimgaonkar, I., Hrebikova, G., Contreras, J.E, Ploss, A. (2017) Hepatitis E virus ORF3 is a functional ion channel required for release of infectious particles, Proc Natl Acad Sci U S A, 114(5):1147-1152. PMCID: PMC5293053
Gardner, M.R*, Kattenhorn, L.M.*, Kondur, H.R, von Schaewen, M., Dorfman, T., Chiang, J.J., Haworth, K.G., Decker, J.M., Alpert, M.D., Bailey, C.C, Fellinger, C.H., Joshi, V.R, Fuchs, S.P., Martinez-Navio, J.M., Quinlan, B.D., Yao, A.Y., Mouquet, H., Gorman, J., Zhang, B., Poignard, P., Nussenzweig, M.C., Burton, D.R., Kwong, P.D., Piatak Jr., M., 14, Lifson, J.D., Gao, G., Desrosiers, R.C., Evans, D.T., Hahn, B.H., Ploss, A., Cannon, P.M., Seaman, M.S., Farzan, M. (2015) AAV-expressed eCD4-Ig durably protects rhesus macaques from multiple SHIV challenges, Nature, 519(7541):87-91.  Doi: 10.1038/nature14264.  PMCID: PMC4352131.  
de Jong, Y.P., Dorner, M., Mommersteeg, M.C., Xiao, J.W., Balazs, A.B., Robbins, J.B., Vega, K., Labitt, R.N., Donovan, B.M., Giang, E., Krishnan, A., Chiriboga, L., Charlton, M.R., Burton, D.R., Baltimore, D., Law, M., Rice, C.M., Ploss, A. (2014) Broadly neutralizing antibodies abrogate established hepatitis C virus infection, Science Translational Medicine, 6(254):254ra129, PMCID:PMC4312107
Dorner M., Horwitz J.A.*, Donovan B.M.*, Labitt R.N., Budell W.C., Friling T., Vogt A., Catanese M.T., Satoh T., Kawai T., Akira S., Law M., Rice C.M.**, Ploss A**. (2013) Completion of the entire hepatitis C virus life-cycle in genetically humanized mice, Nature, 501(7466):237-41, PMCID:PMC3858853
Klein F., Halper-Stromberg A., Horwitz J.A., Gruell H., Scheid J.F., Bournazos S., Mouquet H., Spatz L.A., Diskin R., Abadir A., Dorner M., Billerbeck E., Labitt R.N., Gaebler C., Marcovecchio P., Incesu R.B., Eisenreich T.R., Bieniasz P.D., Seaman M.S., Bjorkman P.J., Ravetch J.V., Ploss A., Nussenzweig M.C. (2012), HIV therapy by a combination of broadly neutralizing antibodies in humanized mice, Nature, 492: 118-22. PMC3809838
Dorner, M., Horwitz, J.A., Robbins, J., Barry, W.T., Mu, K., Jones, C.T., Schoggins, Catanese, M.T., J.W., Burton, D.R., Law, M., Rice, C.M., Ploss, A. (2011) A genetically humanized mouse model for hepatitis C virus infection, Nature, 474: 209-211. PMC3159410
Ploss A.*, Evans M.J.*, GaysinskayaV.A., PanisM., YouH., de Jong Y.P., RiceC.M. (2009) Human occludin is a hepatitis C virus entry factor required for infection of mouse cells, Nature, 457: 882-6. PMC2762424